Grand Buffet
972-548-8286
1434 N Central Expy, McKinney, TX, 75070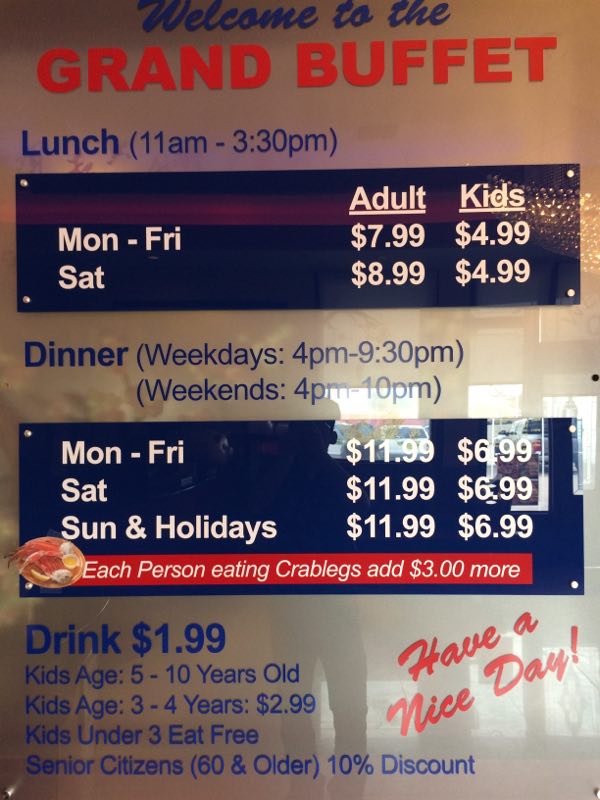 Spicy
Veggie
Chef Recommended
Most Popular
Health Dining
Full Menu
Crab Rangoon (Cheese Wonton) (8)
$4.95
Vegetable Fried Rice
$4.95
House Special Fried Rice
$6.95
Vegetable Lo Mein or Mei Fun
$4.95
Chicken Lo Mein or Mei Fun
$5.95
Pork Lo Mein or Mei Fun
$5.95
Shrimp Lo Mein or Mei Fun
$6.95
Beef Lo Mein or Mei Fun
$6.95
House Special Lo Mein or Mei Fun
$6.95
Chicken w. Mixed Vegetables
$8.95
Chicken w. Cashew Nuts
$8.95
Chicken w. Garlic Sauce 
$8.95
Sweet & Sour Chicken
$8.95
Roast Pork w. Broccoli
$8.95
Roast Pork w. Mushroom
$8.95
Shrimp w. Lobster Sauce
$10.95
Shrimp w. Mixed Vegetables
$10.95
Shrimp w. Cashew Nuts
$10.95
Shrimp w. Garlic Sauce 
$10.95
Beef w. Mixed Vegetables
$9.95
Pepper Steak w. Onion
$9.95
Beef w. Oyster Sauce
$9.95
Beef w. Garlic Sauce 
$9.95
Chicken & Shrimp Combo
$10.95
General Tso's Chicken 
$8.95
Chicken Orange Flavor 
$8.95
Classic Roll or Hand Roll 
Choose 2 Roll For $7.00, 3 Roll For $10.00 Any additional sauces or ginger $1 Any Roll w/Naruto style $5 or Soy sheet $1.50 Sushi(2 pcs)$3.00,Sashimi(3pcs)$5.00
Sweet Potato Tempura
$4.00
Honey Roasted Peanut Avocado
$4.00
Crunchy Spicy Yellowtail
$5.00
Snow Crab Avocado Crunch
$5.00
Crunchy Spicy Salmon
$5.00
Crunchy Spicy Scallop
$5.00
Smoked salmon cream chicese cucumber and scallion
Crab,avocado,cucumber wrapped around four differ-ent fishet
Eel cucumber with mango topping and tobiko
Shrimp tempura snow crab avocado masago
Shrimp tempura cucumber,jalapeno,topped with avo-cado and spicy tobiko sauce
Crunchy spicy white tuna av-ocado jalapeno topped with tuna salmon yellowtail
Spicy crunchy shrimp topped with seared scallop,miso re-duction and masago
Spicy scallop,avocado,tem-pura flakes wrapped around
Shrimp tempura,mango,jalapeno topped with spicy blue crab and black caviar
Spicy crunchy salmon topped with mango,redtobiko,creamy cucumber relish
Eel tempura,spicy tuna,avo-cado,mixed green in pink soy sheet
Tuna,salmon,avocado,cu-cumber topped with black caviar and wasabi tobiko
Tuna,salmon,yellowtail,avo-cado,snow crab,shrimp,masago wrapped with green soy sheet and topped with miso sauce.
Spicy tuna,tempura flakes,snow crab,avocado and to-biko with sweet sauce
Shrimp tempura,snow crab,avocado,masago wrapped with soybean sheet served with sweet sauce
Tuna,salmon inside topped with tuna,salmon,eel,crunch,masago,scallion and sweet sauce.
Crab stick,avocado rolled in crispy nori topped with snow crab and crunch.
Shrimp tempura,spicy tuna,avocado,masago wrapped with soysheet
white tuna tempura,spicy tuna,avocado,topped with blackened tuna and miso mango sauce.
Shrimp tempura,mango topped with spicy crabmeat,tobiko and Chef's special sauce.
Spicy tuna,yellowtail topped with snow crab and crunch.
Crunchy spicy tuna,avocado,glazed with sweet sauce
Crunchy snow crab avocado wrapped around seared black peppered tuna,tobiko and topped with honey wasabi sauce.
Crabmeat salad,tuna topped with seared salmon and completed with Chef's warm sauce.
Spicy scallop,tuna,salmon,yellowtail and crunch wrapped with soy sheet w.chef's sauce
California roll with baked scallop on top
California roll topped with fresh water eel
Shrimp tempura,cucumber and crunch outside
Crabmeat,shrimp tempura,avocado,deep fried w/sweet eel sauce,spicy sauce
Shrimp tempura with cream cheese,outside spicy tuna with jalapeno crunchy with special sauce.